Submitted by

Robin

on 10. May 2017 - 12:11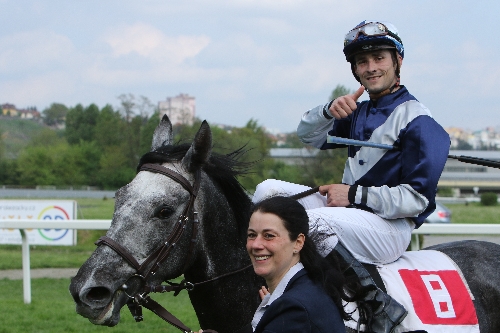 After a break of eight years, a horse trained in Germany has won one of the Czech classic races. German-bred Fashion Queen, by Santiago (GER) out of Fashion Tycoon (IRE) (Chineur (FR)) won by half a length from Polyanta, bred and owned here by Jiří Travníček. Polyanta is by Soldier of Fortune (IRE) out of Peinture Naïve (FR), which raced in the Czech Republic. As she had when winning the main trial race for the 1 000 Guineas, Polyanta set a good pace and ran on well. This time, however, she was caught within the last 100 metres.
Fashion Queen had won a Listed race in Hannover as a 2-y-o. She is owned by Rennstall Barsig, and is trained near Dresden by Claudia Barsig. Prague Velká Chuchle is the nearest major racecourse to Dresden (if we do not include Most), and trainer Claudia Barsig and jockey Rene Piechulek were pleased with the decision to make the short journey to Prague.
30-year-old German jockey Rene Piechulek told Dostihový svět editor Petr Guth "It's a great feeling to win a classic. Every time and anywhere. I've won classics in Austria and in the Netherlands [but not yet in Germany]. This is now my first win in Prague, and it was a tough race. Our filly chased her down, and showed not only class but also a will to win. That was the decisive factor today. It was a high-quality race, which is what you expect in a Listed race. I'm happy that we beat some good fillies. It wasn't easy at all. Fortunately, the race developed the way we wanted. It was quick, and that suited Fashion Queen."
When asked whether it was worthwhile for him to come to Prague for a single ride, Piechulek replied "Yes, certainly. If the owner covers the travel costs, I'm happy to travel for an interesting race abroad, as long as I do not have any commitments in Germany. It's fine working with trainer Claudia Barsig, and I hope she will continue to be satisfied with my work. Maybe we'll come here again for some other major race."
Czech owners and trainers nowadays take full advantage of the opportunity to run their horses abroad, where they often win much higher prizemoney than is available here. Although our owners and trainers would have loved to win the 2017 Czech 1 000 Guineas, we should all be glad that a good German-trained filly came to Prague and won this race on merit.