Submitted by

Robin

on 17. February 2019 - 20:45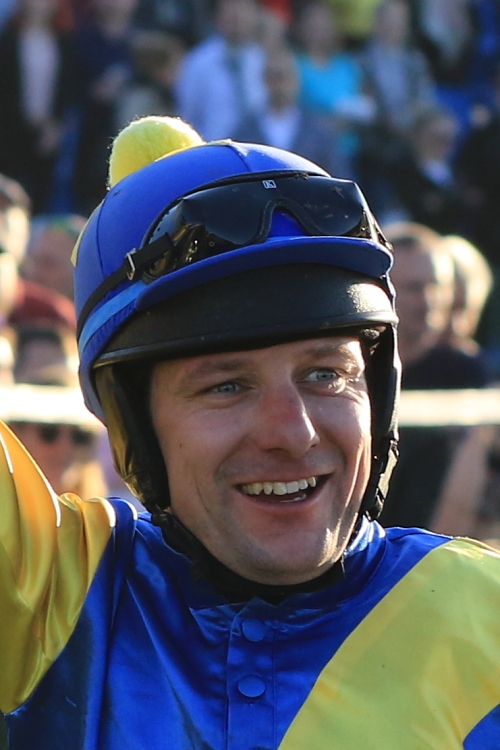 Jan Faltejsek worked abroad in the UK and in France for many years, but has always made a point of getting back to ride in his home town, Pardubice, and also riding in Italy and France, mainly for Czech trainers and owners. He has five times ridden the winner of the Velka Pardubicka (Orphée des Blins 3X, Charme Look and Tzigane du Berlais). This is a number of wins in the great race exceeded only by Josef Váňa senior. Now, he has decided to base himself in the Czech Republic – but right on the western border, so that he can get to the racecourses in northern Italy, France and Germany… and anywhere else, if he is offered a good ride!
Right now, my priority is riding in races, says Jan Faltejsek 
Czech trainers have always shown great interest in Jan Faltejsek's services as a jockey. However, for the last ten years and more he had to travel great distances to ride here in the Czech Republic. This situation changed some time ago, and the five-time winner of the Velka Pardubicka is now in his second year with a steady base in the Czech Republic. I spoke with Jan Faltejsek not just about his return to the Czech Republic and his very successful season in 2018, but also about his plans for 2019, and about his views on the promising young Czech hurdlers and chasers that might turn into stars of the future.
***
Could you begin by summarizing the time you've spent living and working abroad?
It's about 12 years in total. First, I spent 7 years in England [with George Charlton and his father]. Then I spent three years in France [with Guillaume Macaire] And I spent the last two years in England again [back in Northumberland, with George Charlton].

What was the decisive factor that brought back home?
It was my state of health. I was having big problems with my back. I needed a course of treatment, and health care at home was more reassuring and more acceptable for me here than abroad. I've been helped a great deal by Dr Brož and others. [Dr Brož is the head of Accident and Emergency at Pardubice Hospital, and he arranges to be on duty at Pardubice racecourse on racedays]. Touch wood, my back's pain-free, and I feel fine.

Haven't you received some new offer to work abroad, now that you're back to fitness?
There hasn't been any offer that could have grabbed me. I have to admit that I was feeling a bit tired after spending this long time abroad. Working abroad is something different. It's twice as challenging as here.

2018 was another very successful season in your rich career as a jockey. You won the Velka Pardubicka and also eight other major races, including big races in Italy and Germany. That must be something for you to be pleased about!
Yes, I'm very pleased. The main thing for me was that I kept healthy all season. I rode some very good horses for good owners and trainers, and I'd like to thank everybody for the riding opportunities and for the trust that they put in me. Another important factor is that it was easier to get to the racecourses, not only here in the Czech Republic, but also in France, Italy and Germany. When I was working in France and in England, coming to ride at Pardubice was took a lot of time, and it was expensive for the owners. [His base in the UK was in Northumberland, and in France he was based on the Atlantic coast, in the far southwest.] Being based in the Czech Republic makes more sense.

How did it come about that you are now working in the training centre at Osvinov?
I wanted to be in the western part of the country, which is a convenient location for getting to Merano and to other racecourses abroad. And I have family ties there. When I came back from abroad, my grandmother, who lives in Tachov, took me in. There isn't any training centre near Tachov, so I'm pleased to have come to an arrangement with the Baštas, who have everything built and set up. It's only an hour's drive from Tachov.

How does your 2019 racing season look? Is there any new collaboration to tell us about?
I've been working for a long time with trainer Pavel Tůma and with the horses owned by Dr Charvát. I've also ridden some races for Mr Jalový, and I'll be working for him again this year. And with the Baštas too, of course. To tell you the truth, there's no collaboration that I'd rule out, if it's going to work out for both sides. I do have some more plans, but we'll wait and see.

Aren't you tempted to become a trainer?
It's an option. I've done a few things in my life, and I've seen and experienced things in training centres. And I have my own viewpoints. But there's a time for everything. Right now, my priority's riding in races.

Last year, you rode a number of young jumpers in races. I'm interested to hear whether some of them made a big impression on you.
If we're to talk about talented young hurdlers and chasers, they include some that haven't been seen much here. There are Stuke and Arkalon. They're just high-quality horses. As for young crosscountry horses, only Evžen, trained by the Myškas, has stood out. He's pretty good, and the other 4-y-os couldn't stay with him at Pardubice. However, horses develop, and it's good that a horse that's quite moderate at first can grow into a pretty good chaser. Developing a chaser takes patience and working with the horse every day.

You've really already achieved a lot in the saddle. Do you have some new goal as a jockey?
There are plenty of goals – there's always something more! However, I don't have any specific target before the beginning of this season. The main thing is to do my job well, and in that way get rides on good horses.  

Michaela Zemanová
***
This interview, taken by Michaela Zemanová, first appeared on 12.02.2019 on the Fitmin = Turf webpages. https://dostihy.fitmin.cz/domaci-dostihove-deni/momentalne-je-pro-mne-prioritou-jezdit-dostihy-rika-jan-faltejsek.htm 
Translated by Robin. Introduction by Robin.
Photo by Petr Guth.