Submitted by

Robin

on 16. December 2019 - 9:59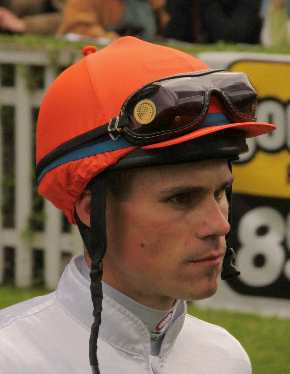 Czech jockey Tomáš Lukásek (photo) has been spending his winters riding in the Gulf States, and he is now very nicely established in Qatar. He rode the winners of the first three races in Doha on December 14th. With 11 winners already this season, he is now placed 5th in the Qatari jockeys'  championship, which is led by Ryan Curatolo.
At the same time, Tomáš rode his 500th lifetime winner. He has ridden winners in 11 different countries. Early in his career, he spent several years in England. As a youngster at the beginning of the 21st century, he spent five years waiting for his first winner. While he was in England, I think he did not get any rides in races, but he no doubt learned how to be a successful jockey. In 2015, he started riding mainly in Poland and spending the winter in the Gulf States.
***
By the way, I have failed to mention another of our jockeys who passed the 500 winners mark this autumn. Veteran jockey Jan Rája has now ridden 506 winners: 492 on the flat and 14 over fences. Jan also spent a period of time about 20 years ago at Jonjo O'Neill's stable. He too returned from the UK with a distinctly professional attitude towards being a jockey. When he reaches 500 on the flat, I will mention him again! Jan is nowadays head lad, working for Miroslav Nieslanik. Czech-based, Polish-born Miroslav Nieslanik took third place in our trainers' championship this year, and has surely benefitted a lot from Jan Rája's experience and knowhow.
***
Photo of Tomáš Lukášek, by Petr Guth.