Submitted by

Robin

on 31. December 2019 - 18:01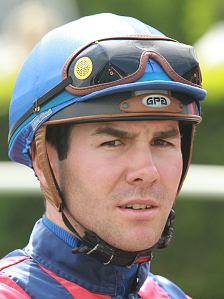 Václav Janáček (photo) has won his sixth champion jockey's title in Spain, after missing out last year. Before going to Spain, Janáček dominated the Czech championship. He was our flat jockeys' champion from 2006 until 2010. In 2009, he rode 84 winners here, smashing the previous record, which had been 48 winners. The following year, he also rode 84 winners, winning both the Czech championship and the Slovak championship.
Trainer Josef Váňa junior trained his first ever runner in January 2019. He and jockey Josef Bartoš have had a fabulously successful season for Italian owner Scuderia Aichner, and won the Italian jumps trainers' championship and the Italian jumps jockeys' championship. They also won the Gran Premio di Merano, the richest and most prestigious steeplechase in Italy, with L'Estran. Josef Bartoš then won our Velka Pardubicka on Theophilos, which is trained by Josef Váňa senior.
Last but not least, Bauyrzhan Murzabayev has won his first German jockeys' championship. Bauyrzhan, from Kazakhstan, arrived here as an apprentice in 2012, and won our flat jockeys' championship from 2013-2015, very narrowly missing out in 2016. He then went to Germany, and he won the German championship in his third season there. It is a great achievement to arrive as an unknown rider here, and to establish himself so quickly - and then to go from being an unknown quantity to being the champion jockey in Germany. He is a very good jockey, a complete professional, and he has received a very warm welcome on his quite frequent appearances at the Czech racecourses. He is nowadays very fully engaged in Germany, and is now based in the Dortmund area, I believe, quite far from the Czech Republic. We probably will not see him here so frequently in future seasons, but we will continue to claim him as one of ours, and we fully expect to cheer him on from afar in his career as a top international jockey.
Other Czech jockeys had some success in the German flat jockeys' championship. Filip Minařík, the most successful Czech jockey of all time, finished in sixth place. Martin Laube finished in nineteenth place, and Jiří Palík, Jaromír Šafář and René Koplík all finished in the top forty.