Submitted by

Robin

on 23. June 2020 - 15:39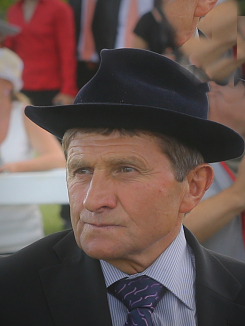 The 2020 steeplechase season at Pardubice made a belated start on Saturday, June 20th. It was the first time this year after the lockdown in the Czech Republic that 2 500 racegoers were allowed to enter the racecourse area, though the crowd that turned up on a very wet afternoon was probably quite a lot less than that.
From what I have read and from what I have seen on television, it was an unusual kind of afternoon. It began to rain heavily in the morning, and the rain got heavier in the afternoon. The first two races were over hurdles, and at Pardubice the hurdles are placed on the flat race course. That went OK. After that, one cross-country race was held, after which it was decided that the crosscountry routes (different for each race) were unsafe. The ploughed fields were covered in puddles, and must have been deep and slippery.
The decision was taken to run the remaining five crosscountry races on the steeplechase course, which is run entirely on a grass circuit and over small plain fences, with a single water jump. The connections were allowed to withdraw their horses from the changed races without penalty. As a result, the field for the main race, the Korok Opening Steeplechase, consisted of just four runners. The clear winner was Dusigrosz, trained by Josef Váňa snr and ridden by Josef Bartoš. This 7-y-o has a good record over the steeplechase fences at Merano, which gave him an advantage over the others, which are all crosscountry specialists. Second place went to 6-y-o Aeneas, also trained by Josef Váňa snr. 6-y-o Evžen, trained by Štěpánka Myšková, has been our most promising young crosscountry horse in recent years. He took a lot out of himself when recovering from a mistake, and he was well beaten into third place, ahead of Lombargini.
The intention is to prepare Dusigrosz for the Velka Pardubicka this year, and we will have to wait and see whether he can deal with the crosscountry course for that race. Aeneas is also entered for the Velka.
The next meeting at Pardubice is on Saturday, July 4th. The ground staff, headed by Jiří Janda, is highly competent and very hard-working these days. It is just as well, as it will take a lot of work to get the course back into good order.
**
Photo of Josef Váňa snr., by Petr Guth