Submitted by

Robin

on 10. August 2020 - 15:20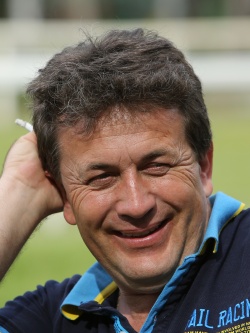 The Czech Oaks, run at Karlovy Vary on Sunday, August 9th, was won by Irish-bred Zariyannka, in a well fought with German-trained Vivienne Wells.
Zariyannka, by First Defence (USA) out of Zaridiva (Duke of Marmalade), is owned by Lokotrans Slovakia. She is trained by Zdeno Koplík, and was ridden by Radek Koplík, the trainer's brother.
The first three races in Zariyannka's career were the Czech One Thousand Guineas, at Most, in which she finished 4th, followed by the Czech Two Thousand Guineas, in which she finished 2nd, behind Rate, at Prague Velká Chuchle, and now she has won the Czech Oaks.
Her trainer said that her next race is again likely to be in a Czech classic - the Czech Derby -which will be run at Prague Velká Chuchle on Sunday September 6th.
***
Photo; trainer Zdeno Koplík. Photo by Petr Guth.