Submitted by

Robin

on 27. August 2020 - 22:08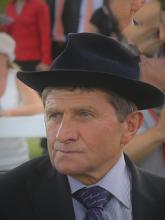 Josef Váňa senior solves jockey problems for Pardubice and Most this weekend
In the most recent Velka Pardubicka qualification race at Pardubice at the beginning of August, Josef Váňa's firm grip on these races weakened, and none of his three well-fancied contenders finished better than in a well-beaten third place. Now, the last of the races inside the Czech Republic through which horses can qualify for the VP will be held at Pardubice this Saturday (August 29th), and the experienced trainer is bringing out one of his big guns.  Ange Guardian will be trying to win his record sixth VP qualification race. Váňa also has Sottovento in the race. Sottovento gave Ange Guardian a tough race in the first of the qualification races, but the trainer thinks that it will not be easy for either of his horses on Saturday.
"Of course we want to win, but so do our rivals, and this time there are some pretty good horses in the race," says Váňa. "Tzigane du Berlais is a high-quality chaser – he won the Velka in 2018. And Talent won this fourth qualification race last year. These are horses that have been tried and tested, and they can perform at Pardubice.  The result on Saturday could be decided by the going [the ground is likely to be softened by rain that is forecast for Friday night and for Saturday]" Váňa adds, pointing out that Ange Guardian's best results have mainly been on more or less hard ground.  "Most of the runners prefer softer ground, and it would suit some of my horses better, too."  To be fair, though, Ange Guardian does not seem to mind softer ground.
Ange Guardian will be ridden on Saturday by veteran jockey Jiří Kousek, his usual rider. Váňa does not have either of his usual top jockeys available this weekend. Jan Kratochvíl and Josef Bartoš are both recovering from the kind of falls that jumps jockeys take in their stride. "It seems that they'll be ready and available next week, but for the moment we've had to make some alternative arrangements," says Josef Váňa. Meanwhile, Jiří Kousek, who normally gets to ride Váňa's third best, will have a series of very interesting rides on Váňa-trained horses on Saturday.
At Most racecourse on Sunday, Váňa has supplemented Dusigrosz for the Velká mostecká steeplechase. This is a Listed race, but it has attracted a very disappointing field, and Dusigrosz will be a hot favourite. "We had a big problem at the last minute to find someone to ride him. In the end, we decided on Kuba Kocman, and I think he's a rider who deserves this chance," says Josef Váňa.
Most of our trainers had a despairing search for a decent rider for their horses at Pardubice and at Most. With 15 runners in three of the races at Pardubice, there simply are not enough experienced riders to go round. Three experienced jockeys from abroad will fly in, Niklas Lovén from Sweden, Jordan Duchêne and Sertash Ferhanov, from France. All three are good jockeys who frequently make big efforts and long journeys to ride in the Czech Republic, and they are very welcome visitors. In the qualification race, Lovén will ride Catch Life, which put in a very good performance to finish second in the qualification race at the beginning of August - if Catch Life impresses again he will probably be supplemented for the Velka. Duchêne rides Chicname de Cotte, which ran the race of his life to finish a close third in VP 2019. Chicname de Cotte has not yet run this year, so it will be important for him to get round and qualify. Ferhanov rides Vandual, which will be an outsider.
***
This article is based on an interview with Josef Váňa taken by Petr Guth that appeared on our Czech language web pages. Photograph of Josef Váňa taken by Petr Guth.