Submitted by

Robin

on 2. September 2020 - 10:10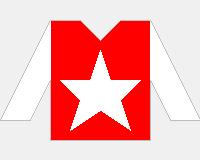 Jaroslav Myška and Štěpánka Myšková have both been established on the Czech steeplechasing scene for a number of years. Štěpánka was a good enough rider to win 37 races, 27 of them over fences and hurdles. Jaroslav has now ridden over 300 winners over fences. This is a lot of wins in the Czech Republic, where 20 wins in a season is normally more than enough to win the jumps jockeys' championship. Indeed, he did win the championship in 2003, 2004, 2007, 2011, 2012 and 2013.
In the last 8 years, Jarda has gradually ridden less and has given more of his attention to training. He used to hold a trainer's licence in his own name, but now he and Štěpánka work together, both of them very hard, and the licence is held by Štěpánka. As a jockey, Jarda concentrates on riding the stable's horses, and this is a considerable benefit for the owners and for the trainer. His numbers of rides have gradually gone down year by year. He rides less  in Italy or in France than our other leading jumps jockeys, but when Štěpánka and he have good enough horses in their yard, they are happy to take on the challenge, mainly in France.
Jumps racing in the Czech Republic is brightened up by the stable's colourful fan club, and Štěpánka will again this year, I hope, be dressed in the colours of the owner of the horse trained by her and ridden by Jarda in the Velka Pardubicka. Presumably he will be on Lodgian Whistle this year. The colours of the horse's owner, Staj Jeso, are red, with white arms and a big white pentagram on the chest.
In recent years, Jarda has loyally ridden the moderate Bridgeur in the Velka, but Lodgian Whistle won the Labe Stakes on VP day in 2019 and won the 3rd qualification race for VP 2020 on August 8th. This horse could win the Velka this year, or more likely a  year or two from now. Jarda has never won the VP. No jockey has ridden in the VP more times than him without winning the race, and he is probably the best Czech jumps jockey never to have won the race.
On VP day 2019, two winners were trained by
Š
těpánka
Myšková
and ridden by Jaroslav Myška. Evžen won the Vltava Stakes, and

 

Lodgian Whistle won the Labe Stakes. On August 29th, the Myška family enjoyed its first-ever hat-trick of wins. Chrystal Cross, Evžen and Popinjay all won their races, and the next races of at least two of these horses will probably be on VP day.
The following interview with Jaroslav Myška was taken by Petr Guth, and first appeared in Czech language on our Czech-language pages. 
Popular husband-and-wife team Jaroslav Myška and Štěpánka Myšková enjoyed unprecedented success at Pardubice on Saturday (August 29th). In the course of the afternoon, they completed a hat-trick of wins together, as Jaroslav took three horses, Chrystal Cross,  Evžen and Popinjay, all trained by his wife, successfully over the finishing line.  
After riding his 300th career winner over fences at Bratislava in mid August, on Saturday he set out resolutely in pursuit of his fourth hundred. "Of course, we are happy that things turned out this way today," he said, as he tried to remember when he had last ridden a hat-trick of winners. "Was it last year on Velka Pardubicka day? No, there were only two winners then," he recalled. According to official statistics, his last hat-trick was at Pardubice in 2011. This time, Myška could enjoy the extra sweetness of winning all the races on home-trained horses. "Of course it is a terrific feeling. We have quite a lot of horses, and there are for practical purposes only three of us who deal with them. A success like today is specially pleasing for us. And not only for us, but in particular for the owners. It's a reward for their confidence in us and for their patience," says Jaroslav Myška, not overlooking the crucial importance of these relationships in present-day horseracing.   
And how did it happen that these three winners were sent out for the meeting featuring the last of the four qualification races for the Velka Pardubicka? "We always try to aim our jumpers mainly for the autumn. The first months of the season are mainly for maintenance purposes, and we try to keep their best form for the second half of the season. And it seems that things are going according to plan," Myška comments.
He would certainly like to confirm the good autumn form of the horses trained by his wife at the two-day Velka Pardubicka meeting on October 10th and 11th. "We want to aim Chrystal Cross at the Poppler Memorial, and Evžen will probably go for the Labe Stakes.
"We bought Popinjay [a 4-y-o crosscountry chaser] at auction for the owners, and I'm very pleased that the purchase has turned out well in this way," Myška adds. "The horse went very well, and he showed at Pardubice that he might be good enough to take on foreign opposition. Of course, we'll have to talk it through calmly with the owners, but I can imagine we might take him to run abroad," says Jaroslav Myška.