Submitted by

Robin

on 16. September 2020 - 7:25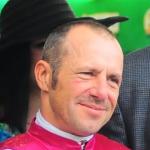 Just one week after announcing his impending retirement, Jan Rája rode two winners to complete his 500 winners on the flat, in addition to 14 winners over fences earlier in his career. 500 winners on the flat, almost all of them in the Czech Republic or in Slovakia, is a tremendous lifetime achievement by Jan. Well done!
(Please note, the statistics of the Jockey Club of the Czech Republic acknowledged Jan's 500th winnner last weekend. However, the Jockey Club statistics do not include 5 winners that he has ridden abroad and 3 winners as an apprentice in 1988. There were therefore celebrations at the end of last season for Jan's 500th winner on the flat. Thanks to Jiří Zlamaný for pointing this out.)
Whatever! There is little enough to celebrate currently, so I do not intend to take down this file. Well done, Jan Rája, I say. And if the congratulations are belated, I apologize.