Submitted by

Robin

on 20. September 2020 - 18:05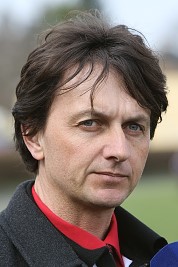 Trainer Radim Bodlák won the Wielka Wroclawska with a 5-year-old mare, Delight My Fire, in 2015. She went on to have a fine career, winning the Wielka Wroclawska again in 2017 and finishing third in the Velka Pardubicka just a month later, among numerous other achievements. Now the trainer has won the 2020 Wielka Wroclawska with another 5-year-old mare, Cosmic Magic. Veteran Swedish jockey Niklas Lovén rode Delight My Fire when she was at her best, in 2017. He also rode Cosmic Magic in this year's Wielka Wroclawska, and showed all his experience in avoiding the attention of a persistent loose horse. Trainer and jockey agree that Cosmic Magic could be even better than "Delina". Cosmic Magic has already won 5 races at Wroclaw, including all her three races in 2020.
This interview by Petr Guth first appeared in Czech language, on the Dostihový svět website. Photo of trainer Radim Bodlák by Petr Guth. Translation by Robin.
***
Not even a loose horse threatening to disrupt the race in the finishing straight interrupted Cosmic Magic's series of wins at Wroclaw racecourse in Poland, on September 13th. This was her third successive win at Wroclaw, and her most valuable so far. All ten runners in the race were Czech-trained, and she was a clear winner, though she did not in the end finish far ahead of the others.
How can Cosmic Magic's win be compared with the triumphs of another mare trained by Radim Bodlák - Delight My Fire, which also won the Wielka Wroclawska as a 5-year-old, five years ago. And, by the way, both of these mares finished ahead of Larizano and Sztorm when they won their races!
"I've been saying since she was a 3-year-old that Cosmic Magic is better than Delight My Fire was," Radim Bodlák declares. "It isn't easy for me to say that, because Delina was an exceptional horse for us, and she proved it time and time again. But the fact is that what Cosmic Magic has done so far shows that, at the same age, she is ahead of where Delight My Fire was. Her jockey, Niklas Lovén, confirmed this after the Wielka Wroclawska. When he got back, he said that she's a very talented youngster, and that he'd done everything to prevent her losing her enjoyment of racing. She won without being ridden out, but even so she won clearly and without any problems!"
Bodlák had given Lovén his instructions, and according to the trainer the Swedish jockey carried them out perfectly, and in the end the most dramatic moments came in the finishing straight. "My most unsure moments were when a loose horse appeared at the head of the field. Of course, there's no way you can prepare a jockey for that before the race, but I think Lovén handled the situation just right. He didn't want to jump side-by-side with the loose horse, so he dropped in behind and waited until they were safely inside the finishing straight.  Without those dramatic moments, the winning margin could have been clearer, but everything turned out calmly. And turned out happily, for us, too," the trainer said. He added that the mare that has taken the Polish route this year will go to Wroclaw again in October.
"The Poles have reorganized their race in the Crystal Cup [crosscountry chase series], and we'll be going back to Wroclaw for it.  Of course, the big meeting at Pardubice [on October 10th and 11th] is a big attraction. However, since the two meetings are just a week apart, we'll probably prefer to run at Wroclaw," Radim Bodlák considers. The Crystal Cup race in Wroclaw is 500 metres longer than the Wielka Wroclawska, but that should not be an insoluble problem for his mare.
"In the long term, we'll surely be heading to Pardubice with Cosmic Magic. For a Czech owner, there's no bigger attraction than the Velka Pardubicka. She hasn't yet won at Pardubice but, as in the case of Delight My Fire, changing racecourses shouldn't be a problem, and I believe she'll do well there, too," Radim Bodlák predicts.