Submitted by

Robin

on 14. May 2019 - 14:41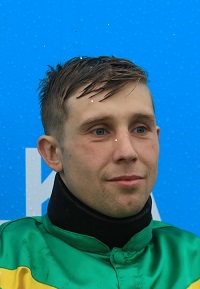 The 2019 steeplechasing season has got off to a slow start, as usual, and in the middle of May only three Category I races have been run. The Town of Lysá-nad-Labem First of May Steeplechase, 4 200 metres,  at Lysá, was for the sixth successive year trained by Josef Váňa senior and ridden by Jan Kratochvíl (photo). Power Zar had won the September 2017 VP qualification race. The previous Váňa/Kratochvíl winners of the First of May Chase were Theophilos (2018, 2017), Ange Guardian (2016) and Rabbit Well (2015, 2014).
The first meeting at Pardubice was on May 8th. The main crosscountry chase was the Town of Pardubice Korok Cross Country Chase, 4 500 metres. This was won by Ange Guardian, trained by Josef Váňa senior and ridden by Jiří Kousek. The following race, the Dostihový Klub Stakes, 3 900 metres, on the classical steeplechase course, was won by Lamum, trained by Luboš Urbánek and ridden by Andrew Glassonbury. This was Andrew Glassonbury's first winner in the Czech Republic, and was a considerable consolation after he had been disqualified and received a suspension for running out in the previous race on Ribelino. In his defence, the video of the race seems to suggest that the horse outside Ribelino and leading the field was ridden off course and Andrew Glassonbury followed him when it would have been difficult to have done anything else.
The next meeting at Pardubice, featuring the May qualification race for the Velka Pardubicka, is on Saturday, May 15th.