Submitted by

Robin

on 4. January 2018 - 12:20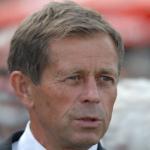 Ferdinand Minařík won the Czech flat jockeys' championship twice, and went on to be a racehorse trainer based at Prague Velká Chuchle. He retired a few years ago, but continues to attend race meetings at Velká Chuchle on a regular basis, and to be sought out as a pundit and as an adviser, on the basis of his experience and reputation as a jockey and a trainer. Another claim to fame of Ferdinand Minařík is that his son Filip followed in his father's footsteps, and is the most successful Czech jockey of all time.In 2017, Filip won the German jockeys' title for the fourth time [His previous wins were in 2006, 2011 and 2016].
One of the first to congratulate him was, of course, his proud father. Ferdinand Minařík remembers very well from his time as a jockey how much hard work and sacrifice lies behind winning a champion's title. Especially in a country which is some way ahead of the Czech Republic, in horse racing and in other ways.
"It's an incredible success," Ferdinand Minařík says. "When he left for Germany, it didn't occur to us that he would fly so high [Filip Minařík last rode regularly in the Czech Republic in 1995, as a promising young jockey who had recently ridden his fiftieth winner]. The first title was terrific, but the fact that he has now reached four titles just adds to the degree of success. He's done fantastically well."
How so?
Ferdinand Minařík has a simple explanation. "German racing is on a high level. Not just the horses, but also the jockeys, since their championship is a big international contest. The Czechs are far from being the only foreigners to appear at their racecourses." He does not have to look far to back this statement up. Not only our top Czechs, but also Jozef Bojko, from Slovakia, and now Bauyrzhan Murzabayev, from Kazakhstan, and the top German riders, also some Italians, Adrie de Vries from the Netherlands, and Eduardo Pedroza, from Panama!
What does it take for a jockey to win to champion's title in Germany?
"Of course, the horses and the jockey have to perform well. That's fundamental, anywhere in the world. However, in Germany the boys have to cover an awful lot of kilometres in their cars. The racecourses there are often quite far apart. It takes a lot of time and there's a lot of driving. That's something that the German championship requires, and not much is spoken or written about it," Ferdinand Minařík says.
Does Minařík senior see any basic difference between Filip Minařík the jockey at the time of his first title and the way he is now?
"All these titles cost a great deal of effort, and of course that first title is what a person wants most of all. It's something he hasn't achieved before in his life, something he's been yearning for. It's harder to defend the title, of course. He no longer has to win it at any cost. It's a different situation."
Ferdinand Minařík has of course noted the passage of the years, and he points out, "After the age of forty, your physical resources gradually fall away. On the other hand, you have much more experience available to you. You can't keep winning races without that. As you get older, riding is more and more in the head. It's not just a matter of how a jockey rides in his races, it's also a question of his motivation to continue riding. His body hurts more and more, and each new fall can be the final signal that it's time to finish. The head, and how a person deals with things and is able to motivate himself, that becomes increasingly important," says the former jockey and trainer, reflecting on a further major success for his son, who has won more races than any Czech jockey in history.
***  
 This interview, taken by Petr Guth, first appeared in the Czech language pages of Dostihový svět, on January 2nd, 2018. Translated by Robin Healey. Photo by Petr Guth.