Submitted by

Robin

on 26. February 2019 - 10:05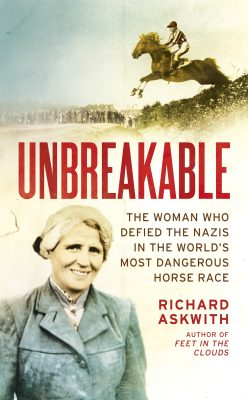 Czechoslovakia, October 1937. Europe's youngest democracy is on its knees. Millions are mourning the death of the nation's founding father, the saintly Tomáš Masaryk. Across the border, the Third Reich is menacing – and plotting to invade.
In the Czechoslovak heartlands, vast crowds have gathered to watch the threatened nation's most prestigious sporting contest: the Grand Pardubice steeplechase. Notoriously dangerous, the race is considered the ultimate test of manhood and fighting spirit. The Nazis, as usual, have sent their paramilitary elite: SS officers schooled to be Hitler's most ruthless enforcers. Their mission: to crush – yet again – the "subhuman Slavs". The local cavalry officers have no hope of stopping them.
But there is one other contestant: a silver-haired countess riding a little golden mare…
The story of Lata Brandisová is one of the strangest and most inspiring in all sport. Born into privilege, she spent much of her life in poverty. Modest and shy, she refused to accept the constraints society placed on her because of her gender. Instead, with quiet courage, she repeatedly achieved what others said was impossible. The scandal of her first attempt to ride in Pardubice reverberated across Europe. Ten years later, she became her nation's figurehead in its darkest hour. Then came retribution…
UNBREAKABLE is a tale of courage, heartbreak and defiance, in an age of prejudice and fear. In the background are forces – sexism, class hatred, nationalism – whose shadows darken today's world too. In the foreground are eccentric aristocrats, socialite spies, daredevil jockeys – and a race so brutal that some consider merely taking part in it a sign of insanity. At its heart is a unique hero, and a unique love affair between a woman and a horse.
***
https://www.knihydobrovsky.cz/unbreakable-136613859
***
Richard Askwith has written the first ever biography of Countess Lata Brandisová. Until now, little more has been written in Czech language about this remarkable woman and great sporting heroine than a small number of much plagiarized articles. Very little hard evidence about her life has been published. The fact is that little is known about the Countess. There are very few statements, no diaries and no stashes of love letters. Richard Askwith has researched what is known about her life, and the underlying social and political background, very painstakingly. In addition, he has allowed himself, on the basis of his findings, to speculate on what her life may have been like.
This book follows up on Today we Die a Little, Richard Askwith's biography of Emil Zatopek, translated into Czech as Dnes Trochu Umřeme, in which he attempted to reveal what lay behind the myths about the life of the great middle distance runner. 
The definitive biography of one of the greatest, most extraordinary runners and Olympic heroes of all time, from the author of running classic Feet in the Clouds. Emil Zatopek won five Olympic medals, set 18 world records, and went undefeated over 10,000 metres for six years. He redefined the boundaries of endurance, training in Army boots, in snow, in sand, in darkness. But his toughness was matched by a spirit of friendship and a joie de vivre that transcended the darkest days of the Cold War. His triumphs put his country on the map, yet when Soviet tanks moved in to crush Czechoslovakia's new freedoms in 1968, Zatopek paid a heavy personal price for his brave defence of 'socialism with a human face'. Rehabilitated two decades later, he was a shadow of the man he had been - and the world had all but forgotten him. Today We Die A Little strips away the myths to tell the complex and deeply moving story of the most inspiring Olympic hero of them all.    
https://www.databazeknih.cz/knihy/dnes-trochu-umreme-vzestup-a-pad-emila...
Unbreakable does not fill the enormous gap left in the literature on Czech horseracing by the absence of any previous major book on Countess Lata Brandisová. It is, rather, a challenge to others to find out and publish more about the woman who, in 1937, won the toughest steeplechase in continental Europe. Her life story, from riches to rags, is dramatic - but never quite tragic, because she was truly 'unbreakable'.