Submitted by

Robin

on 6. June 2019 - 11:23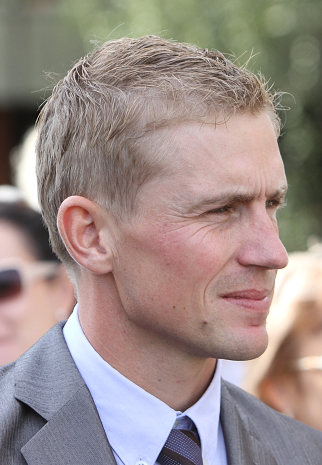 Trainer Václav Luka junior has set a trend in Czech flat racing in the last four or five years for our trainers to send horses to compete in France, where he has achieved a lot of success. He is now established as a major personality in French racing, and of course in Czech racing, and more and more of our trainers are trying to follow in his footsteps. Václav Luka has by no means walked away from racing in our own region. His training centre and his owners have been key initiators, promoters, sponsors and supporters of the European Jockeys' Cup meeting at Prague Velká Chuchle, and in 2018 the Luka training centre won three of the main races on EJC day, with Wireless, Troizilet and Rousse. Luka-trained horses feature strongly in the Czech and Slovak classics.
Last weekend, Václav Luka had three winners in the Turf Gala meeting at Bratislava: Wireless, Beau Massagot and Ventaron, all of them ridden by David Liška, our highly promising young 2018 champion jockey, who is about to complete his studies at the school for apprentices at Prague Velká Chuchle racecourse. David Liška's development has been very closely linked with the Luka training centre at Bošovice, near Písek in South Bohemia.
The recently-announced entries for all four of the main races on EJC day, Saturday, September 28th, include strong Luka-trained contenders http://www.dostihyjc.cz/prihlasky.php?id_den=7823
Dostihový svět editor Petr Guth interviewed Václav Luka, and also took the photo.
Luka: The hat-trick of winners at Bratislava was very pleasing
The Turf Gala meeting at Bratislava this year was dominated by the David Liška – Václav Luka pairing. Three wins at this prestigious central European meeting is a rare achievement, and the team from Bošovice in South Bohemia has every right to be pleased. The successes of Wireless, Beau Massagot and Ventaron constitute a really major achievement in central Europe, and trainer Václav Luka acknowledges the fact.
"The meeting at Bratislava is absolutely one of the high points of the first half of the racing season in our region, and to have had the success that we had is something that must please me greatly as a trainer," Luka acknowledges. "The Turf Gala was a meeting that I looked up to when I set out as a trainer. Even if things are a bit different nowadays, when our horses often run in France, and we have the European Jockeys' Cup meeting at Prague Velká Chuchle, Bratislava remains a top event. That's why we took some high-quality horses there this year, and I'm thrilled that we managed to win three races," says Václav Luka. 
"Of our three winners, we had most confidence in Wireless. Even as an 8-y-o he's still a high-quality horse, and few horses in our region have achieved more than he has. We certainly went there hoping that Wireless would win. I have to admit that on the last bend there didn't seem to be a way through for him, and I thought he wouldn't make it. However, in the straight he just showed that he was better than the opposition," was Luka's assessment of the performance of the horse that has already for several years been the pride and joy of owner Leram.
"Beau Massagot was my secret tip for his race. I had a lot of faith in him, even though it could be seen that he'd had enough by the end of the 2018 season. However, he'd enjoyed his trips to Bratislava last year, winning there in the spring and at the Turf Gala, and he'd shown some form in France, and I just had faith in him. He ran really well over 1200 metres, confirming that he has some quality, even if he hadn't shown much recently."
Ventaron's win in the Slovak Grand Prix was the least expected of the three successes, and the trainer praised David Liška's performance as a jockey. "Sending Ventaron out over a longer distance, after he'd taken a break, was a bit of a risk, but David gave him an excellent ride and the race turned out perfectly for them," Václav Luka commented. "I was sure that Ventaron was a top horse, and I'm glad that he proved it at Bratislava," he added.
Future plans for the three winning horses are not yet clear. One possibility is to run them at the Derby meeting at Prague Velká Chuchle, but it is more likely that their next races will be in France.